The Case of the Missing Frogs – Journal Entry #2
By Phil Good, A Rocha Lebanon volunteer
It is akin to a wild goose chase, only it's a frog. It was thought to be extinct, but now the search is on. We have a recording of the call of this rare painted frog and we will hunt throughout the Aammiq wetlands in Lebanon to see if it is there. We have some clever little boxes that contain a small computer, a microphone, and some AA batteries. These devices can be set up to record the sounds that they hear in the different areas of the nature reserve, wherever we think there might be some of these frogs. We set up the device to wake up every 15 minutes and record for five minutes. This way, we get a five minute sound file four times every hour.
So let's go to the wetlands in Aammiq, in the western Beqaa region.
Aamiq wetlands are in the Beqaa valley of Lebanon are a vital world-recognized refuge for migrating birds, as they pass through this fertile valley on their migrations to and from Africa and Eastern Europe every spring and autumn. It belongs to the Skaff family and was restored in the 2000s thanks to a cooperation with A Rocha Lebanon.
Early in the morning, it is very restful to arrive here, having escaped Beirut.
It is a beautiful spot, this fertile valley between the mountains.
We stand at 900m above sea level, and in the distance, we can even see Mount Hermon, which is topped with a fresh fall of snow.
We have several types of habitat to investigate. There are the large reedbeds, but the most likely spot is a long drainage channel, where there has been a suspected sighting already.
Everywhere, I can hear frogs calling. Especially if the weather is warm, but that could be deceiving as so little is known about this species. We are not sure if the presence of other frogs is actually a negative. This species may prefer to be somewhere where there are less other frogs. All we know is that the painted frog does not live in water, but calls for mating from there. So, I place devices in different locations all over the wetland reserve.
Sometimes we can fix them to a branch, but other times we mount them on a stick.
After five or six days, the time comes to retrieve the devices, so I get to come again and walk around the reserve to find the devices. If I should forget where I placed them, I have recorded the GPS coordinates, and I also have photographs of every location.
Having retrieved all five devices, I return to the car and take small SD cards out and replace them with blank ones. The batteries need changing, and then the devices need to be reconfigured, as the configuration is lost when the batteries are taken out.
On one day, we had some youngsters pay a visit to see what was going on.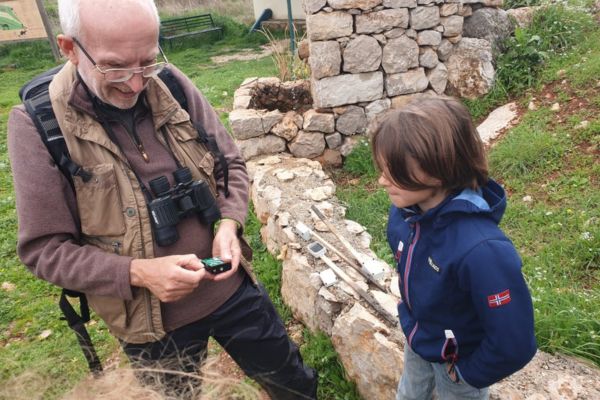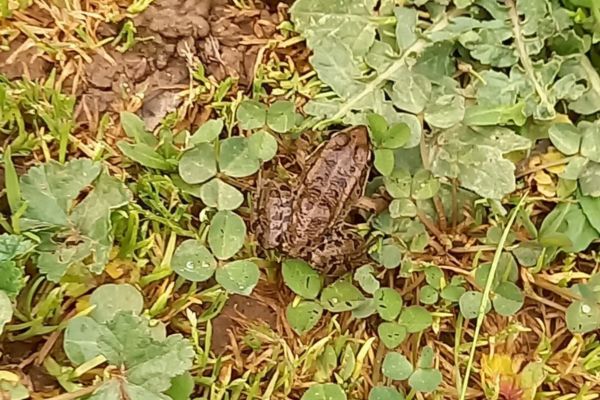 Yes, we have seen frogs here, though I have heard them more than I've seen them.
There are also Terrapins, and they make a lot of noise as they crash through the reeds and dive into the water when they hear me approaching. The flowers are stunning too!
Having updated the devices and enjoyed a drink of coffee, it is time to walk back around the reserve and place them into new places.
When the sun shines, it is a beautiful place. Although different when it rains, it is still beautiful in a different way.
Having placed the devices in new locations, taken pictures of each spot, made some notes, and recorded the GPS coordinates… I can head back to the car and then head over the mountain, back to Beirut. Upon getting home, I carefully copy the files on the SD cards to backup and then load up to the web, where later some scientists will analyze the data for the distinctive sound of the painted frog. So far, we have created 13,000 five-minute sound files, so we will need the help of a computer to find the calls. I have listened to a lot of files, but I haven't heard one yet. But there are still more locations to listen to and many files I did not open.
Stopping for a coffee in the middle of the natural world is my dream way of spending time.
It has been a joy to do this, walking in the reserve with my binoculars in hand, seeing the birds and flowers. Thank you to A Rocha for letting me be involved in this small project. We still have to analyze the data in collaboration with A Rocha International. Looking forward for seeing the results!